Pallet Distribution & Commercial Storage Solutions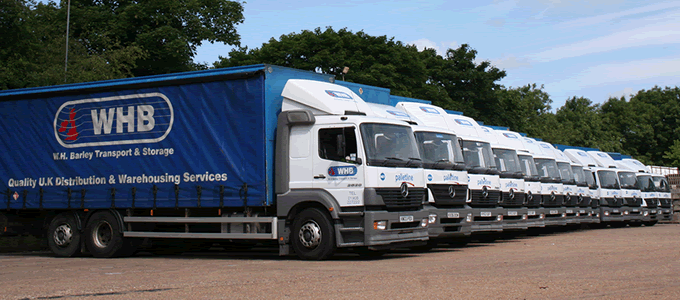 At W H Barley (Transport & Storage) Limited have been providing flexible, quality Transport logistics solutions for over 40 years and continually enhance, improve and develop the range of services we offer to our valued customers. We work directly with you, to move Freight Next Day, Economy to Sameday deliveries. IT Department can develop solutions so that we become part of your business. Your consignment information can be exported from your systems directly into ours. Your customers can retrieve their own PODs from our system, without seeing information from your other clients – we can even seamlessly appear to be part of your web site.
Our services include;
Pallet Distribution – Throughout the UK & Europe

UK Full Load / General Haulage

Next Day / Sameday / Econonmy Deliveries

Dedicated Vehicles Services

Customer Online Booking / Tracking & POD Systems

Secure Commercial Storage with Pick/Pack

Customer Online Warehouse Stock Management

Facilities for lower volume clients, including eBay sellers
W H Barley (Transport & Storage) are based in Milton Keynes, Buckinghamshire. We provide palletised distribution for the domestic and European markets, along with general road haulage and secure commercial storage and warehousing solutions around the UK and nationwide.
The original and largest Hub and Spoke network in the UK